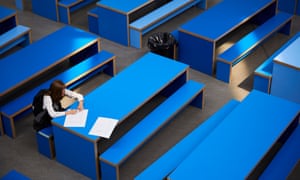 A rush to set up academies is leaving hundreds of schools ignored by inspectors amid mounting costs for the taxpayer, parliament's spending watchdog has found.
The public accounts committee has concluded that escalating problems in the sector have left civil servants scrambling to change how they examine prospective academies' financial viability and sponsors' ability.
In a highly critical report released on Wednesday, MPs said they were worried that the Department for Education has not yet learned the lessons from high-profile academy failures that have been damaging children's education.
It followed an analysis by the National Audit Office in May that showed more than 1,600 schools had not been inspected for six years or more and, of those, almost 300 had not seen an Ofsted inspector for at least 10 years.
Operators of dozens of academies have declared that they are struggling during this academic year.
Meg Hillier, the chair of the committee, said the government's haste in pushing ahead with academisation has come at a high cost.
"The DfE … must strengthen scrutiny of prospective academies and sponsors. Costs associated with conversion can reduce funding available to local authorities to support remaining maintained schools. Academisation can also undermine councils' ability to provide school places.
"Oversight of the sector has become confusingly complex, which can place unnecessary burdens on schools and risks weakening decisions in the conversion process," she said.
Converting local authority schools into academies is a central plan of the government's education policy, with all schools since 2010 allowed to apply for academy status with more freedom over areas such as the curriculum and staff pay.
By January, 6,996 schools had become academies and converting them has cost the DfE £745m since 2010/11.
The report said the department's policy for converting schools to academies is unclear, adding that the full cost of conversion is also unclear, while the department has not learned lessons from high-profile academy failures.