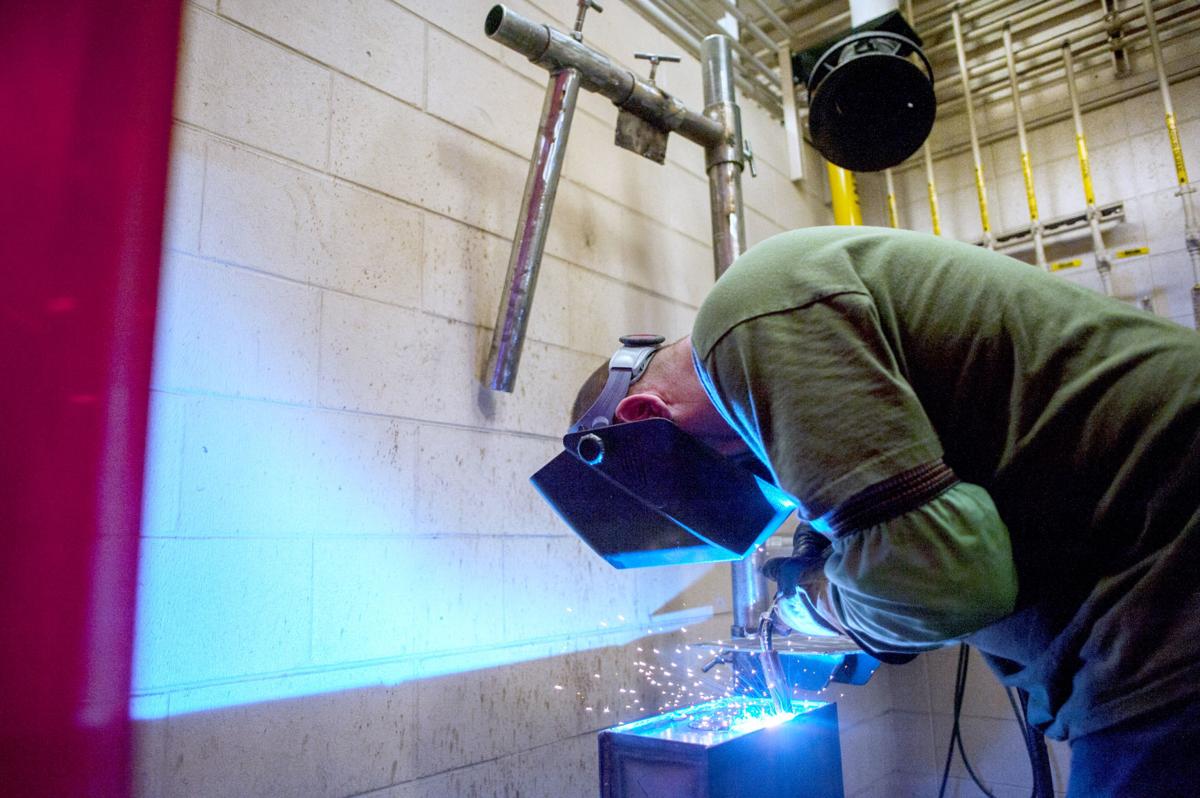 JANESVILLE
For the first time in its history, Blackhawk Technical College's Advanced Manufacturing Center is open during the summer months.
Summer classes aren't a radical idea, but they're a first for Blackhawk Tech. The offerings are among many changes the college has made to increase enrollment and make education more accessible.
Still, the college is facing a number of challenges, chief among them being how much funding it can earn under the state's performance-based funding system.
Enrollment
Blackhawk's enrollment was 8,857 students for the 2012-13 school year. That translated to a full-time equivalent of 2,289 students.
But as the economy improved, enrollment numbers drop, just as they do at technical colleges across the country.
Enrollment dropped to a low of 5,426 students, or 1,437 full-time students, for the 2016-17 school year.
When Pierner arrived in July, 2016, he immediately started overhauling what he refers to as "delivery methods" and "degree pathways."
In his 2017-18 state of the college report, Pierner wrote that those changes led to the first increase in enrollment the college had in years: 5,765 students, an equivalent of 1,473 full-time students.
What changed?
The school launched open labs for its welding and automotive classes. Students can take classes online and demonstrate their knowledge in the lab in front of instructors.
Students can start the courses any time they want and don't have to wait until the start of a new semester.
Many courses are now being taught in multiple formats. Students can physically attend class, attend via the equivalent of video conferencing or attend online. A student who has a sick child at home, for instance, might decide to take the class online that day, then return to the physical classroom when his or her child is better.
New programs for commercial truck driving, food production, human services, supply chain management and mechatronics have started. Many are less than a year in length.
Those successes come with challenges of their own.
For example, the commercial truck driving course will not be eligible for financial aid until August, which has led to few enrollments but a long list of interested students.
There have been some "completion issues" for students taking hybrid on line-in school courses, Pierner said. Students sometimes take 12 credits in one semester only to discover it turns out to be too much for them.
In addition, the standards are higher in such courses, Pierner said.
Students who had taken traditional six-credit courses could probably get by with a C. Now the courses are broken up into six individual credits, and students have to pass each one with a significantly higher score before they can move on.
'Pizza' when you want it
Pierner's job is to serve employers in the community while training people for living-wage jobs.
To fulfill the first part of that mission, he and his staff have worked to increase training contracts with local businesses.
They've also developed programs such as the one the college has with United Alloy. There, the company pays employees, many of them newly hired, to learn welding at BTC.
For the second part of the mission, Pierner and his staff expanded the idea of "flexible education" while considering the challenges facing at-risk students.
Previously, most of the college's degrees took two years. That prospect could be overwhelming for some prospective students.
"Let's say a student that hasn't been that successful in an academic environment and they're looking at an associate's degree that's two years away," Pierner said. "And they're thinking, 'Oh my God, I can't even think about stepping into a classroom let alone walking across the stage at graduation 60 credits later.'"
It's like offering someone a pizza and saying, "You have to eat this full pizza or you get nothing," Pierner said.
A better approach might be to give somebody the choice of how much pizza they want, when they want it and how they want it served. Applied to Blackhawk Tech, the school's online programs, open labs, and single or partial-year certificates offer those options.
We're trying to scaffold our programs so that there are earlier stop-out points that are meaningful, that lead to jobs," Pierner said. "They're there for everybody, but specifically for people that need that shorter term goal."
He calls them "stackable credentials."
If someone is interested in the culinary arts but is intimidated two year program, they can get a one-year food production tech certificate. As a line cook, they could earn between $8.50 and $15 an hour, according to local job websites.
Other similar certificate programs include business management, supply chain management and human services.
In all cases, the certificates are part of two-year associates degree programs, so if a student wants to pursue a full two-year degree, the credits from the certification would count toward that.
"The benefit to the college is that they are cost neutral," Pierner said. "But our focus is not just on funding. Our focus is on how can we provide pathways that appear doable for a person who has not necessarily been successful in the past or is just interested in a quick in and out."
Financial challenges
About 30 percent of state funding for technical colleges is based on performance-based measures.
Performance criteria include job placement, graduates in high-demand fields, industry-credentialed programs, dual enrollment credits, workforce training, collaboration between technical colleges, services to people with special needs,  adult education and advancement statistics. Each technical college picks from seven of those nine criteria.
Here's the catch: Performance measures are based on a three-year rolling average that started with the 2014-15 school year, two years before Pierner started.
Enrollment also plays a factor in how much money a school gets. Blackhawk's enrollment is 14th out of 16 state technical colleges. That's one of the reasons it's important to increase enrollment.
For the upcoming school year, the college lost out on more than $114,151. That's less of a loss than last school year, when the school lost $138,000 in state funding.
Pierner expects the numbers to bottom out in the 2018-19 school year.
Some of the highlights for Blackhawk's performance funding include:
Job placement: Based on the three-year rolling average, 78.7 percent of graduates were employed in fields of their choice within six months of graduation.
Blackhawk placed fourth out of five similarly sized schools and eleventh out of the 12 schools that used this as performance measure.
Blackhawk's post-graduation employment rate for work in all fields remains about 94 percent, Pierner said.
Adult basic education success: Based on the three-year rolling average, about 51 percent of students were successful, based on test scores.  That's up from last year's 45 percent.
Blackhawk's funding in this category was first among schools of similar sizes.
Despite its enrollment numbers, Blackhawk placed seventh out of the 12 colleges that used this as a performance measure.
Dual credit courses: The dual enrollment program allows students to earn college credits while still in high school.
The number of high school students earning dual credits from BTC has jumped significantly in the past three years.
In 2015-16, 898 students earned 3,690 credits. In 2016-17, those numbers moved to 1,386 students and 5,878 credits. In the 2017-18 school year, 2,009 students earned 8,449 credits
That places BTC first among the five smaller technical colleges and eighth out of all 12 colleges that use it as a performance measures.