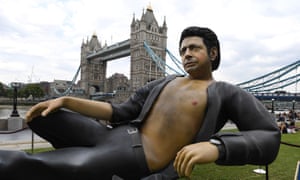 Forgive me, for I am about to break rank. When I saw that a giant statue of Jeff Goldblum in sweaty, semi-naked repose had been unexpectedly erected near Tower Bridge, my pulse did not quicken. My palms did not bead with sweat. My desire – for a new Facebook display picture, or otherwise – did not pull me compulsively towards the Thames. I was left cold by "Sexy Jeff Goldblum" – which is not to say I am left cold by Jeff Goldblum. I have a pulse, and a formative memory of him attempting pick-up artistry on Laura Dern from the back of a Jeep in Jurassic Park.
Online appreciation for his sultry turn as Dr Ian Malcolm in that film has seen Goldblum go from cult figure to fully realised sex symbol in recent years, with many memes made of his open-shirted form. It is as the "chaos theorist" that Goldblum appears rendered nearly 10ft (3m) tall and 23ft long on the South Bank. "Jurassic Jeff", a stunt by Sky's subscription service Now TV to mark the 25th anniversary of Steven Spielberg's blockbuster, has received adulatory coverage since it was installed last week. Goldblum himself awarded it the highest of accolades: "10/10 GOLDBLUMS".
I'd put it at two or three, at most. Viewed most generously, Jurassic Jeff is a totem to the female gaze, a modern riposte to centuries of women being put on pedestals. It is also no small physical feat, reportedly having taken more than 250 hours over six weeks to construct. But ultimately, it is a publicity stunt, and a very successful one at that.
That may be enough for many to enjoy the statue at bare-chest value and "bask in its nonsensical glory", as someone put it on Twitter. But some defining images of our time have been advertisements (and some defining artists advertisers). Its commercial imperative is no reason not to ask what Jurassic Jeff and the rapturous response to it says about popular culture. And, Goldblum fan though I am, I would argue it's nothing good.
It does not comment on or subvert the sly and often surreal use of Goldblum's image at the centre of his cult online following; it just reproduces one of its main symbols. The statue is nothing more than a meme made manifest, a one-note statement that says: "Hey, you've seen this on the internet!" We should ask for more, even of our publicity stunts. Weeks of construction aside, it is lazy, the result of mining the internet for ideas and lifting them wholesale. Yet Adweek hailed it as an "instant classic".