Working in early childhood education is rewarding and fun. Whether you work with toddlers in Seattle or pre-K Tampa, there is a universal truth about little ones: they love to get messy!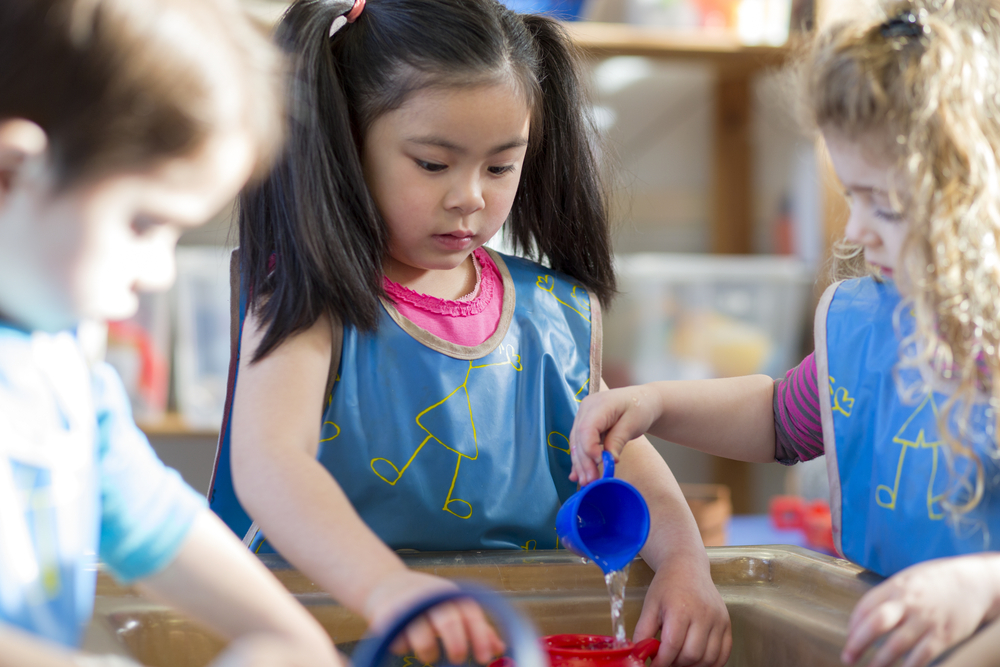 Sensory
Children learn through play, so encourage that by making playtime appeal to all of their senses. Put art smocks on your students and fill the sensory table with fun and unique things for them to explore.
Cooked and cooled spaghetti noodles are slimy and squishy. Squirt a little food coloring on top and let little ones mash, squeeze and dig.
Take a clean, empty bucket to your local coffee shop and ask your barista to save as many coffee grounds for you as they can. Kids love to drive dump trucks and build castles out of them, plus the whole classroom will smell heavenly.
Make "clean mud" out of water, toilet paper and grated Ivory soap. It turns into a mushy, fun substance that is strangely satisfying to squelch between your fingers. Have a wet paper towel ready to go, though; it can irritate eyes if a kiddo rubs theirs.
Art
Some of the messiest art can be the most beautiful. By allowing kids to use their imagination and be as free as they want in making art, you are encouraging creativity in little minds.
Shaving cream is a fun, cheap and surprisingly diverse art supply! Mix it with glue and paint to create "puffy paint."
Another fun way to use shaving cream? Spray it on paper, have kids use their hands to spread it around, and use a dropper to squirt a rainbow of watercolor paint over the cream. Using a Popsicle stick, have your kids scrape it off the paper, leaving them with a tie-dye effect that they made themselves!
In a tray, roll a marble over shaving cream and paint to make a pretty effect on paper.
Promote creativity and get your class excited about learning through fun activities. Let your classroom be a safe place that allows kids to explore and get dirty.